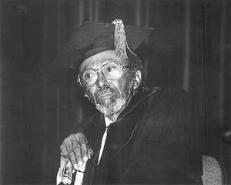 Reverend Charles Kenzie Steele (1914-1980)
Charles Kenzie Steele was born at Bluefield, WV in 1914. Reared in a fairly non-racially charged environment, he suffered culture-shock on coming to Atlanta to attend Morehouse College--an institution that produced 'a generation of civil rights leaders'. There he became acquainted with a young local minister by the name of Martin Luther King, Jr. Along with King and others, Rev. Steele helped form the Southern Christian Leadership Council, a body of religious leaders united to promote non-violent social change and end segregation in the South. Indeed, he held the post of first vice-president of the SCLC for life.
C.K. Steele served congregations in Montgomery, AL and Augusta, GA before assuming the pastorship of Tallahassee's historic Bethel Missionary Baptist Church in 1952. The church, still located on the corner of Tennessee and what is now Dr. MLK, Jr. Blvd (formerly Boulevard Street), was (and still remains) a focal point in Tallahassee's Negro community. Four years later, after two FAMU students were arrested for sitting in the "whites only" section of one of the city's public buses, Rev. Steele was elected president of the Inter-Civic Council--a group of local activists charged with directing a boycott of the bus company. The campaign attracted national attention and Rev. Steele's eloquent manner and great integrity brought him much-deserved recognition. His famous quote of June 25, 1956: "Walk in dignity than ride in humiliation", became the boycott's rallying cry.
When a local court maliciously ruled that the boycott's car-pool service was illegal and fined it's participants a staggering sum total of $11,000 in fines, Rev. Steele traveled north and hit the lecture circuit; preaching almost five times in one Sunday to raise the funds necessary to pay off the fine. This exhausting feat took five years to accomplish.
Despite the legal setback, however, Rev. Steele pushed on. "The war is not over. We are still walking", he cried when the ruling came down. And persevere he did. Two years later, thanks to the heroic efforts of Rev. Steele, the ICC, and the city's determined Negro residents, Tallahassee's bus system was integrated. Indeed, Rev. Steele's leadership earned him the respect and admiration of the whole city--black and white citizen's united in praise for his quiet dignity and great humanity. For this reason it is said that Rev. Steele "healed the community" at a time when social division and mutual mistrust were rampant. As a mark to his unequalled dedication and social standing, today the main hub of the city's bus system, now known as 'Taltran', has been dubbed "C.K. Steele Plaza." Once more, at the corner of Duval and Tennessee streets lies a likeness in stone of Rev. Steele--significantly, the only statue of a historic personality located in Florida's capital.
After the successful boycott, Rev. Steele continued in his efforts to gain equal rights for the nation's minorities in schools, housing, and government--not only here in Tallahassee but throughout the South. This, in addition to maintaining his leadership of Bethel Baptist. Following a life of public service and diligent activism, Rev. C.K. Steele died of bone marrow cancer in 1980. Like his good friend and confidant Dr. King, Rev. Steele's legacy remains strong and well remembered by Tallahasseans of all races, colors and creeds.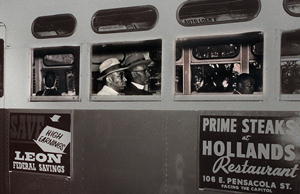 --Rev. C.K. Steele rides a city bus, Dec. 24, 1956.
(Photo: Florida State Archives)

"Loyalty to the boycott went beyond merely a demand to sit at the front of the bus; it was a challenge to all laws, customs, and traditions that for many blacks translated into humiliating subserviance and intolerable indignities"
--Glenda Alice Rabby, author: "The Pain and the Promise"


You're listening to "Didn't It Rain"
by the legendary Mahalia Jackson.
Courtesy of: Gospel2Motown.com

Back

Sources:
1--"Top 50 Most Important Floridians of the 20th Century" (TheLedger.com), Cary McMullen
2--"Foot Soldiers in Tallahassee's Civil Rights Struggle Fought the Law With the Law" (Tallahassee Democrat Online), Jan Pudlow