Career
Dr. King was ordained as a minister in 1948 when he was just 19-years old. He served as assistant pastor of Ebenezer Church under his father Daddy King soon thereafter, then, after he had obtained his doctorate, he accepted the call to pastor Dexter Avenue Baptist Church located in Montgomery, AL. Dr. King served as pastor of Dexter Avenue from 1954 to 1959, significantly building up a reputation in the Montgomery Negro community as an inspirational orator and compassionate leader.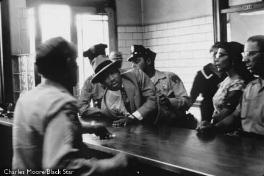 Equally outraged over the arrest of Rosa Parks, a woman who had refused to give up her seat to a white man on a city bus, Dr. King joined forces with other Negro ministers and local leaders to organize a bus boycott which lasted 381 days. He was elected president of the Montgomery Improvement Association, the organization that led the often-turbulent boycott. King's outspoken leadership and dedication to the cause garnered his frequent arrest by local white authorities. Largely because of his efforts, the boycott proved successful. Defeated, The city of Montgomery integrated its bus system in 1956 after the U.S. Supreme Court ruled that bus segregation was illegal.
Having earned unprecedented national recognition for his civic activism in Montgomery, in 1959 Dr. King resigned as pastor of Dexter Avenue to take up leadership of the Atlanta-based Southern Christian Leadership Council (SCLC)--a body of like-minded ministers, he co-founded, united to bring about non-violent social change throughout the South based on the teachings and example of India's civil right's leader Mahatma Gandhi. He served as director of the SCLC, as well as co-pastor of Ebenezer Church (a distinction he received in 1960) until his death in 1968.
National Leader, Author, and Advocate for Peace
In his capacity as director of the SCLC, Dr. King was frequently called upon to assist Negroes in various parts of the country in obtaining certain civil rights denied them by whites. In 1957 he spoke to a crowd of nearly 15,000 in Washington, DC and a year later he met with President Dwight D. Eisenhower. That same year (1958) he published the first of six books, Stride Toward Freedom. Dr. King also penned numerous articles for national and international publications. King's travels on behalf of the SCLC propelled him into several harrowing occasions. In Atlanta he was arrested during a sit-in (1960); during the Albany, GA campaign he was again arrested and jailed (1962). While under arrest in Birmingham, AL (1963), Dr. King wrote his famous Letters From A Birmingham Jail. The Birmingham campaign proved a pivotal turning point in the Civil Rights Movement as an agreement was reached integrating stores, restaurants, and schools and allowing for the hiring of blacks in certain jobs.
In August of that same year, Dr. King delivered his famous I Have A Dream speech from the steps of the Lincoln Memorial during the historic March on Washington. In recognition of his dynamic leadership, Time magazine named him "Man Of The Year" and placed Dr. King's likeness on the January,1964 cover--the first Black man so designated. Dr, King was prominently on hand to witness President Lyndon B. Johnson sign the Civil Rights Act of 1964 into law, culminating his efforts to bring about non-violent social change. Though hurtfully stoned by Black Muslims in Harlem later that year, Dr. King rallied after being awarded the prestigious Nobel Peace Prize in December, 1964 at age 35--the youngest man ever to be so honored.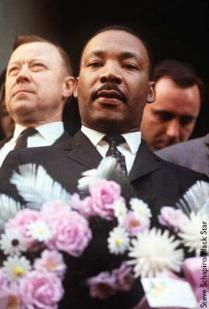 Last Years and Death
After the Civil Rights Act passed into law in 1965, Dr. King turned his attention toward socio-economic concerns. He twice journeyed to Selma. AL to lead a march protesting voter registration fraud and in 1966 he moved into a Chicago slum to call attention to the appalling living conditions inflicted on Blacks residing in urban areas. Dr. King's deep concern for the poor sparked the inception of his "Poor People's Campaign", focusing on jobs and freedom for poor persons of all races, in 1967 and his championship of the Economic Bill of Rights which was to guarantee employment to the able-bodied, incomes to those unable to work, and an end to housing discrimination.
Now heralded as a man proven to be able to bring about change, in March, 1968 Dr. King was called upon to assist sanitation workers in Memphis, TN who were on strike demanding equal pay and protesting discrimination in the city's sanitation department. Sadly, a scheduled march on behalf of the strikers turned violent--a first for a King event. Dejected, Dr. King left Memphis, however, he was compelled to return just weeks later in April to deliver an address to those very same workers. It was on April 3 that Dr. King subsequently delivered his eerily prophetic and famous I've Been To The Mountain Top speech.
At sunset on the following day, April 4, 1968, Dr. King and others were standing on the balcony of the Lorraine Motel (now the National Civil Rights Museum) when a shot rang out, shattering the peacefulness of the setting. From the window of a nearby boarding house, so it appears, James Earl Ray had aimed a shotgun directly at Dr. King's head and fired. Tragically Dr. King had been hit behind his left ear and died seconds later. News of King's assassination sparked riots and other disturbances in 130 American cities--such was the devastating reaction to the death of this great and revered man.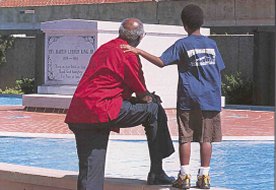 The Rev. Dr. Martin Luther King, Jr. was funeralized on April 9, 1968 in Atlanta, GA and is now entombed in the middle of a reflecting pool surrounded by Freedom Plaza on the grounds of the Dr. Martin Luther King, Jr. National Historic Site. Out of respect to the memory and legacy of America's premier civil rights leader, President Johnson proclaimed a national day of morning and ordered that flags be flown at half-mast at all federal government institutions. On the day before the funeral, James Earl Ray had been seized by authorities in London, England and arrested for the murder of Dr. King. Before coming to trial, however, Ray hastily pleaded guilty on all charges and was sentenced to 99-years in the Tennessee State Penitentiary. It is because of this, and other circumstances, many persons believe, even today, that the true-nature and depth of events surrounding the death of Dr. King will never be fully known.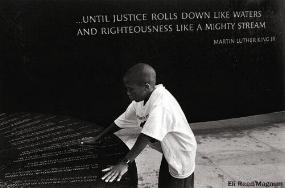 The King Legacy
Immediately after her late husband's death, Coretta Scott King surfaced as guardian and protector of Dr. King's written words and legacy. Despite other tragic setbacks in the King family--such as the accidental death of Rev. A.D. King just a little over a year after his elder brother's assassination, and the senseless murder of Mrs. Alberta King by a deranged man while she was sitting at the piano inside Ebenezer Church in 1974--Mrs. King and her children strive to keep Martin's dream alive through the auspices of the Dr. Martin Luther King, Jr. Center For Non-Violent Social Change. In 1983 President Ronald Reagan signed into law and act proclaiming the third Monday in January as a national holiday honoring the birth of Dr. Martin Luther King (see below, right), this after grueling efforts by Mrs. King and others to have a King Holiday proclaimed--a campaign that began within months of Dr. King's death.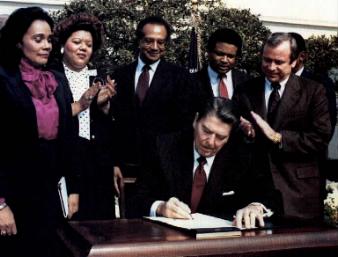 Today. Mrs. Coretta Scott King remains active and vocal in her determination to honor and protect the memory of her late husband. Dr. King's surviving children also play pivotal roles in advancing the King Legacy. Yolanda King is known as a talented motivational speaker and actress, while her brothers Martin III and Dexter work tirelessly on behalf of the King Center. Not surprisingly, the tradition of religious servitude and devotion continues within the King Family in the person of Dr. and Mrs. King's youngest child, the Rev. Dr. Bernice King.
This month, communities all across the United States will celebrate the 15th Observance of the King Holiday. Cities such as Tallahassee and their residents, black, white, red, yellow, and brown, have earmarked the occasion as an opportunity to highlight diversity, mutual respect and understanding, and the Spirit of Brotherhood--all of which are aims Dr. Martin Luther King, Jr. could only dream of that day on the steps of the Lincoln Memorial back in 1963. Yes, the legacy continues.
"I have the audacity to believe that peoples everywhere can have three meals a day for their bodies, education, and culture for their minds, and dignity, equality, and freedom for their spirits"
--Rev. Dr. Martin Luther King, Jr. (1929-1968)